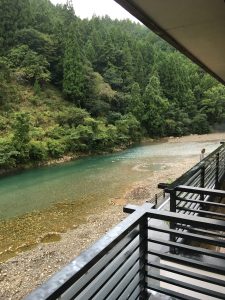 Hot. The weather has been hot and very humid, which made yesterday's hike with Buddhist priest and mountain ascetic Tateishi Kōshō tough at times. There were periodic deluges of rain, so much so that our planned hike up the mountain to a waterfall was too dangerous to take. We crisscrossed the lower mountain, walking a bit on the Kumano Kodo, a world heritage pilgrimage trail (akin to the Camino del Santiago in Spain, in fact the city where we got off the train Tanabe, is a gateway city to the Kumano Kodo and a sister city to Santiago). By the time we arrived at Kōshō's hall, we were drenched. Rain and sweat.
We were greeted with towels to clean up with, and a hot pot lunch. Dumplings, noodles, vegetables all cooking in a salty broth, just right to replenish all those electrolytes we had lost in the morning's hike. A bedraggled band on arrival, I watch fluids and a place to sit restore us all.
As lunch came to a close, Kōshō handed us gomagi, wooden slats with the seed character for Fudō-Myōō, the image in Kōshō's hall, on one side. We wrote our names and ages on one side (now we know I'm the oldest on the trip!), and a desire on the other side. These would be burned in the goma, or fire ceremony, taking our prayerful desires up with them
In my class we've been talking about "spiritual technologies" – or the ways in which material objects, such as incense or bells, as well as bodily postures, such as bowing or walking, are often part of a meditative practice. From the familiar postures of meditators sitting on cushions to the Christian rosary beads, to the use of bells and chant, many traditions make use of material items or embodied practices to facilitate meditation. Kōshō's fire ceremony let us see how a rich set of materials and practices could be employed: we rubbed incense on our hands, Kōshō used a big ringing bowl as well as blowing a ceremonial conch shell, the heart sutra was chanted ten times. In some ways, it reminded me of James Turrell's "Light Reignfall" which I saw at LACMA two years ago and on which we saw a short film in class.
We are staying at an onsen, a traditional Japanese hot spring, which welcomes pilgrims on the Kumano Kodo. While there were the usual Japanese communal baths, both indoor and outdoor, Japan's geology provided a more unusual opportunity. The bed of the river which ran past the inn was percolated with small volcanic hot springs. Dig into the gravel at the river's edge, looking for hot spots and make your own hot bath. When it gets too hot, dip into the cool pools of the river. It felt quasi-baptismal after the day's steep hikes.
The rain had caused the river to rise, but not so much we couldn't find some hot spots at the edge and the students (with some help from the faculty) built a river bath, stacking stones to make an artificial pool where the hot water filters up and is trapped. It smells faintly of sulfur, adding to the sensory experience. The Bryn Mawr "hot spot" was still there this morning, and several students took advantage and went out for a quiet early morning river meditation. Me, too.
____________________________
On the way out to the onsen up the river from Tanabe, we stopped at a shrine, Kumano Hongu taisha, viewed by some modern Japanese as a spiritual power spot, pawaa supotto. Another sort of hot spot.
Read more about Fudo-Myoo here (http://www.penn.museum/blog/collection/125th-anniversary-object-of-the-day/statue-of-fudo-object-of-the-day-44/)
Watch a short piece on Turrell's "Light Reignfall" (https://vimeo.com/75419053)