[Posted for Nazifa Tabassum]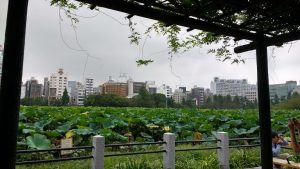 The Ueno Park in Tokyo is a fascinating place. On one end is the Ueno zoo: a place filled with bright colors and joyful schoolchildren, who are amazed by the beauty and diversity of the animal kingdom . On the other end there are also seekers of beauty, but of a different kind. Littering the various shrines and temples are adults – office-goers, homemakers, senior citizens and tourists alike – who are looking for a quiet space to reconnect spiritually with nature, God or both.
This morning I found myself in one such place. Benten hall is situated in the middle of a pond filled with large, green water plants. The greenery formed a comfortable buffer, protecting the space from the hectic city life and providing people with a serene perspective of one of the busiest cities in the world. From what I gathered Benten Hall or Benten-do is a Buddhist temple dedicated to Benzaiten, goddess of fortune, music and wisdom (Wikipedia), which explained the temple's popularity. However, I was more interested in the little sitting area on the side of the temple overlooking the surrounding pond. There were several people sitting there but it appeared to be a silent space. Some read, some listened to music and some just took in the view. One man had brought breadcrumbs with himself and spent hours feeding the pigeons in the park. A bunch of strangers sitting together in silence might appear strange to some (the trope of mysterious-silent-stranger-who's-up-to-no-good coming into play here ) but the silence that was shared at the sitting spot was comfortable, even welcoming.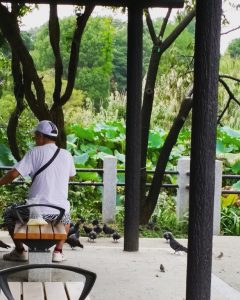 Thus I sat on a bench near the water, listening to the silence around me, the gentle lapping of water playing as a soft background music. My breaths became deeper and my mind emptied of all the anxiety-inducing plans I had of exploring all of Tokyo in one day. For a brief period of time, I just paid attention to the moment: the feeling of the breeze on my skin, the changing colors of the sky, the soft cooing of the pigeon roaming around me.
When I left the temple, I certainly felt very fortunate to have experienced that brief, unexpected moment of mindfulness in the little oasis of Benten-do.